News / Announcements
Training programme for journalists 2018
16.07.2018
Related pictures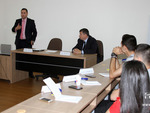 On July 16th, by the initiative of the Information and Public Diplomacy Department of the MFA a training programme for journalists started at the Diplomatic School of Armenia.
The 8 day-long programme on Armenian's foreign policy priorities, regional and international issues is for journalists who cover international affairs, and lectures are delivered by the respective MFA officials and ambassadors.
The participants were welcomed by the Director of the Diplomatic School, Ambassador Vahe Gabrielyan and the Speaker of the MFA Tigran Balayan. Vahe Gabrielyan spoke about the importance of such kind of programmes, which help the participants to aquire a more detailed knowledge of Armenia's foreign policy and diplomatic activities. He drew the participants attention on some specifics of the covering of the international issues and expressed the hope that the programme will be beneficial both them and the MFA.
Tigran Balayan emphasized the fact that this annual programme is taking place for the third time due to the interest in it.
Tigran Balayan delivered a lecture on the main priorities of Armenia's foreign policy and public diplomacy.