News / Announcements
The Director of the Diplomatic School participates in the 45th Forum on Diplomatic Training (IFDT)
01.10.2018
Related pictures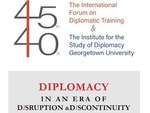 From September 19 to 23, the Director of the Diplomatic School, Ambassador Vahe Gabrielyan participated in the annual meeting of the Deans and Directors of Diplomatic Academies and Institutes of International Relations, the 45th Forum on Diplomatic Training (IFDT). Directors of diplomatic training institutions from over 40 countries took part in the event. This year's meeting, which was hosted by one of the permanent co-chairs of the Forum, the Institute for the Study of Diplomacy of Georgetown University, was dedicated to "Diplomacy in an Era of Disruption and Discontinuity" and as usual, to modern developments in diplomatic training.
The Director also held meetings at the US Department of State with the Director of Caucasus Affairs and Regional Conflicts Bureau of European and Eurasian Affairs Alicia Allison, as well as with Deputy Director of Board of Examiners of the Foreign Service Colombia Barosse and other officials responsible for conducting diplomatic service entrance exams and recruitment of new personnel. He visited the Foreign Service Institute and discussed possible models of cooperation.
Vahe Gabrielyan visited the newly established Washington International Diplomatic Academy and met with its Executive Director Nicholas Kralev.
Ambassador Gabrielyan, upon an invitation from the President and Director of the Metropolitan Museum of Art, attended the official opening ceremony of the "Armenia!" exhibition. Visiting the Library of Congress at the Washington DS, Director Gabrielyan had a meeting with the Armenian and Armenian Area Specialist at the African and Middle Eastern Division of the Near East Section, Levon Avdalyan.