News / Announcements
Graduation ceremony of the Training Course for Journalists
25.07.2018
Related pictures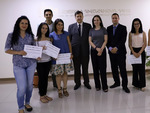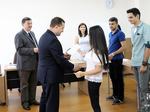 On July 25th, the graduation ceremony of the Training Course for Journalists was formally closed at the Diplomatic School. The training programme was designed in cooperation with the MFA Department of the Information and Public Diplomacy and was the third in a row.
The lectures on the main priorities and challenges of Armenian foreign policy of the eight-day long programme were delivered by high-ranking officials and ambassadors of the MFA.
The Director of the Diplomatic School, Ambassador Vahe Gabrielyan and MFA Spokesmen Tigran Balayan summed up the programme and handed the certificates to the participants.